The Grave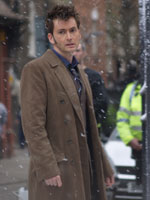 Doctor Who in Gloucester
Gloucester was one of the film locations for the 2008 Christmas special of Doctor Who. On Monday 21st April the Cathedral carpark was covered in artificial snow as David Tennant and co-star David Morrissey filmed scenes with a victorian hearse and funeral procession. Night filming also took place in Berkeley Street and Millers Green. There's a gallery of my photos from the Monday shoot here.
Vulcan To The Sky
The Vulcan To The Sky project successfully restored the cold war delta winged Avro Vulcan XH558 to flight, as the sole flying representative of the V-Bombers that formed Britain's nuclear deterrent in the 1950's and 60's. XH558 returned to airshows around the country in 2008, and after a major fundraising campaign will do so again in 2009. For over a year now I've donated graphic design services by way of support for the project - examples of some of the materials produced can be seen here.